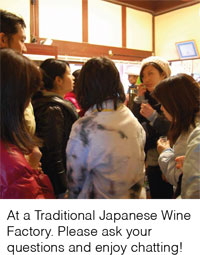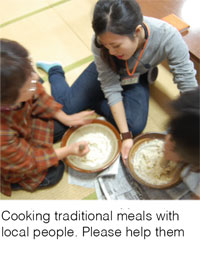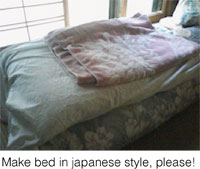 The points of communication
 The most attractive point of rural tourism must be communication with local people. But without same language, how to communicate?
1.Ask your questions directly!
Most of local people in Japanese rural look shy. But they have much of hospitality and want to spend a nice time with you. Please ask your questions or chat from you. Or you can try gesture. They will answer kindly, and you can enjoy talking.
2.Help the local people!
The special experience is having a "real slow life with people". So even temporarily, you are not visitors. You are residents, friends of local people. Please help their cooking or farming, like their families.
3.Keep contact with local people!
After your tour, please keep contact with them. You can try to write a letter or email, or send tour photos or drawing. We know, some tourist sent to their drawing of tour, and seasonal present. You cannot write Japanese? It is not important. As the first step, we will support you to communicate with them.
The manners of staying at Japanese house
 During rural tourism, you might stay at Japanese house of local people or small guests house. Please try these Japanese lifestyle manners.
1.Shoes: You know, in Japan, we take off our shoes at the entrance of house. When enter the house, please take off your shoes. 2.Bath: in Japan, we divide washing space and bath space. Never put your towel into bath tab, please.3.Bed making: After using Japanese bed on tatami floor, please make bed such like this photo.