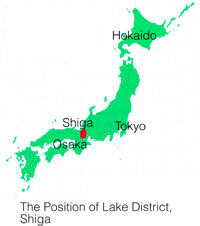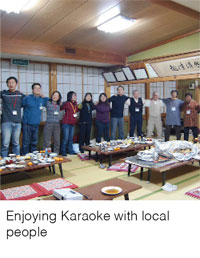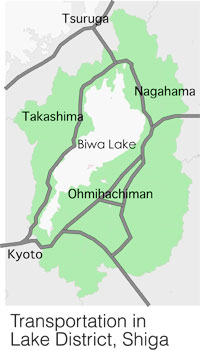 Why Rural Tourism?
Every year, much of people visit various country and area, of course included Japan. But most of them visit famous big city, like Tokyo, Osaka, Kyoto and so on. And maybe bringing some guidebook, with 2~3 hours visiting, they might be satisfied that they see and learn enough. But it might be stereotype "exotic Japanese culture". You know, actually you have not enough chance to chat with local people, and experience of "real life" of local people.
"What is the real experience, what is real tour?" So, why don't you try rural tourism? We, Kokoku Rural Tourism Association, have much network with local people in Shiga, Lake District, Japan to support your tour. Let's enjoy slow life with local people in Lake District, Japan!
Have you visited Shiga, Lake District, Japan?
Have you heard Shiga? Maybe not. But you might hear Biwa Lake in Japan. Biwa Lake is the biggest lake in Japan, traditionally called "shallow sea". And around this Mother Lake, Wetland of Ohmihachiman area, Waterfront of Kaizuosaki, Nishihama and Tomonouchi area, Waterfront of Harie and ShimoFuri area are selected as "cultural landscape in Japan". There are also much of habits of wild bird and freshwater fishes, recognized as "Convention on Wetlands of International Importance Especially as Waterfowl Habitat" in 1993. Around Biwa Lake, there are primary forest of Suzuka, Ibuki and Hiei mountain ranges. Lake District has been a good rice farming and fishing land. It provided people also unique ecological lifestyle, as Kabata, having stream network in community. From the viewpoint of history, Lake District is important point between Kyoto and Edo (Tokyo), having many historical main roads and posting stations.
In addition, we should tell you, Lake District is known as residents pay attention to ecological and slow life in Japan. The 1970s, Biwa Lake had serious water pollution, caused by industrial development. Since then, people have promoted movements for water quality improvement, such like not using chemical soap (Soap movement). Shiga prefecture set Act of Biwa Lake in 1980, that Shiga prefectural government gather chemical soap, and has promoted less chemical agriculture policy, distribution of fish of foreign origin. We are sure that thorough rural tourism you can feel and recognize directly, Lake District has such special ecological and slow life culture.
Transportation to Lake District, Japan
 If you visit Lake District as independent tour, you have to transport by your selves.
1. From Kansai airport, please take a train "Haruka" to Kyoto. It takes 90 min. Then change train. From Kyoto to Otsu, it takes only 15 min.
2. From Tokyo or other place in Japan, please take "Shinkan-sen, super high speed train" You can get off at Kyoto station or Maibara station.
3. In Lake District, Shiga, there is the transportation network around Biwa Lake, JR line or Ohmitetsudo line and so on. You can get off the station nearby, then take a bus, taxi or rent a car.