Special chartered boat cruise for cherry blossom viewing in Kaidu-Osaki, one of the unexplored regions of cherry flower in Japan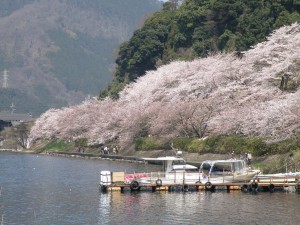 You know, after long cold winter, Japanese enjoy cherry blossom so much. And you may have enjoyed in Tokyo or Kyoto, so famous spots. But it is difficult to see and take a walk under cherry blossom, because of so many tourists.
Now we invite you to a special cruising for cherry blossom viewing in  Kaidu-Osaki, which is one of Japan's 100 remarkable cherry blossom spots, and other sightseeing points, as bellow;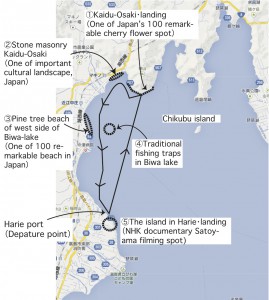 Special points of this cruise
1) Because it is on chartered fishermen's boat,
*You can enjoy cherry blossom near the beach, where big sightseeing boats cannot get to. This cruise will bring you to Kaidu-Osaki (one of Japan's 100 remarkable cherry blossom viewing spot), Kaidu traditional stone masonry (one of the important cultural landscape in Japan)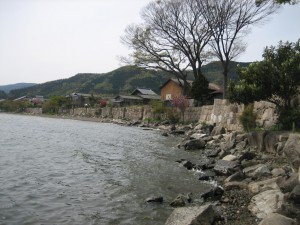 and the pine tree beach (one of the 100 remarkable beach in Japan).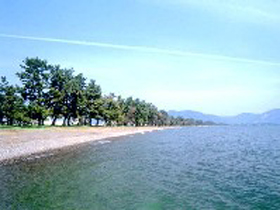 *You can enter the small river and landing near Harie port, which became famous from a NHK documentary film of "Satoyama (hillside ecological life style)", where usually you cannot enter without permission.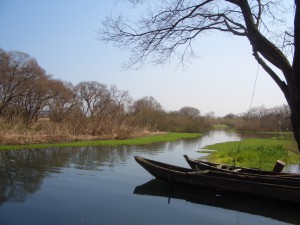 *You can see the traditional fishing trap of Lake Biwa.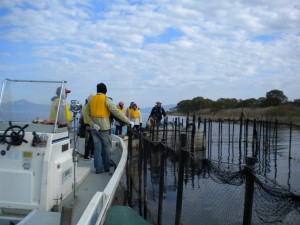 2) Because this cruise starts from Harie port,
*No traffic jams around Kaidu-Osaki (there is only one road to access the cherry blossom viewing street)
*You can take your time while boating on Lake Biwa.
[Special chartered boat cruise for cherry blossom viewing in Kaidu-Osaki]
■Date: 12th & 13th, April, 2014
■Departure time: 10:00/13:30 (2 hours course. checking time is 10 min before)
■Meeting place: Harie port (Shin-Asahi-cho, Takashima city, Shiga pref, Japan)
■Number: 30/each time (registration needed, first-come-first-served basis, minimum number is 6)
■Charge: 4,900yen/person (cruising, guide, insurance, welcome food)
■Participation application: 077-525-6674 (or the first, have a contact with us from this web-site. after that we should make insurance)
■Application deadline: 7th, April, 17:00
■Produced by Rural tourism in Lake district, Japan
■Attention *minimum age 6 *If rainy, no cruising. *please bring rain coat, walking shoes, drinks *please take care of your health condition *In cherry blossom season, route 161 will be so crowded. So if you take a car, please leave time to spare *If you take JR train, get off at Shin-Asahi station, then take a taxi (10 min, 1,200yen)
Access
By train & taxi; take JR train to Shin-Asahi station (from Kyoto, it takes about 45min), then take taxi.
By car: take route 161 from Kyoto or Otsu to north (about 50km), when you find Kitahata crossing point in Takashima city, turn right toward east, go straight about 1.5km. Then you will find route 333, aroung Biwa lake, turn left to north. Go straight about 2km, you will find Harie port.
About Harie
Harie is located in Shin-Asahi district, Takashima city, Shiga pref, Japan. This area has clean springs and a water channal network called "Kabata", that people use water together for drinking, cooking, washing and so on. For NHK documentary film in 2004, many people visit this area to learn their ecologicl life style. This community won Japan's eco-tourism grand prize. French Michelin green guide introduces this area.
Produced by, Rural tourism in Lake district, Japan (managed by NPO HCC Group)
Tel,Fax:077-525-6674
HP: http://kokoku-gt.com/en/ Email: info@yuyu-kan.com
Address: Nagara 2-9-1, Otsu city, Shiga pref, Japan