[Twelve dishes in menu, but finally we could enjoy fourteen!]

Woody-pal Yogo is near the north edge of Shiga pref. Since this spring, they offer "Special lunch of the head of Yogo river", using much of local vegetables and river fishes. We already head about that, eager to try. Now finally we did!
Yeah, now we are glad to introduce this special lunch to you.
Here is the menu.
1.Yomogi flavor soybean milk crape, with Fuki-no-Tou (the peduncle of giant Butterbur) soybean sauce
2.Steamed chicken with Warabi (bracken fern) of Akago hill
3.Egg roll with summer vegetables
4.Tofu with Sansho (prickly ash) sauce.
5.Boiled pork with vinegar soy sauce
6.Boiled Somen pumpkin in Japanese taste
7.Tempura of summer vegetables (river fishes, balsam pear, tomato, sweet pepper)
8.Boiled sweet fish of Sansho taste
9.Soba noodle
10.Ancient rice
11.Boiled Fuki (giant Butterbur) with soybean sauce
12.Soybean sauce soup with Warabi (bracken fern)
Lunch of 12 dishes!! Now comes~~♪. I cannot take those dishes in one photo. So so many… In addition, there are two more dishes, sprout and boiled eggplant, which are not in menu. All 14 dishes?♫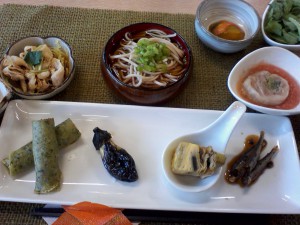 Itadaki-masu (Japanese saying before eating, it means "thank you for all dishes")! The first one is crape, the green toll of the left side. The balance of Yomogi flavor and FUki-no-Tou sauce is nice! Steamed chicken, Warabi has good impact with tomato sauce. Somen pumpkin, eggplant and pumpkin inside. Not too sweet, the broth tasty.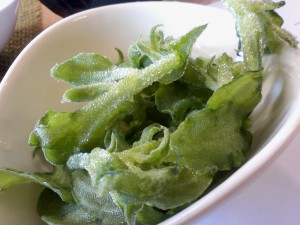 This is the sprout, Woody-pal staffs were proud. Not bitter than lettuce. When try, the bubbles on that surface burst. I don't know how to explain. I should say, please try this interesting taste!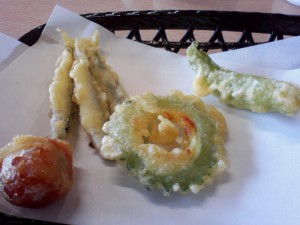 Tempura. I did not expect tomato-tempura. Outside is crispy, and from inside, you can enjoy tomato juice!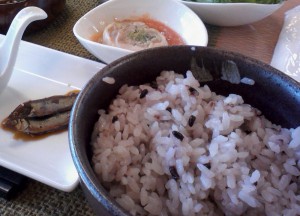 Ancient rice, fluffy like rice cake! With boiled sweet fish, you can enjoy one more rice.
We cannot introduce all dishes, but anyway, all were so tasty with Yogo products. Thanks so~~~~ much!
[Local residents' favorites. Low-cost, High quality and performance lunch]
This lunch, not only visitors, local residents often enjoy. When I look around, of course local residents groups had this lunch also. The menu changes according the season, so when they have a lunch together, this special is good.
And and….. Now the price of this lunch, just 1000 yen! Unbelievable! I asked the manager Mr. Maekawa about this lunch. He told me that many people come here for this lunch. Actually, to make those dishes, keep quality is not easy and not much profits. But many many people like, so they keep this menu.
You can enjoy this special lunch in weekend (Sat, Sun and holidays, 11:00-14:00) but if you reserve, you can enjoy in weekday.
[Much of visiting pots around Woody-pal Yogo]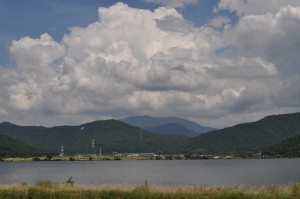 Woody-pal Yogo has cottages, camping space, forest center, play ground, craft workshop and so on. They often (almost everyday) hold some events. Please check their website before you visit. Around there, Yogo Lake★, a famous lake for myth of Celestial maiden, Hagoromo market beside that lake, you can get some souvenir. Or Ikehara soba noodle workshop★, you can try cooking soba with specialist at there, Yakichi of traditional house museum.
Yogo has special scenery, no convenience store, beautiful tiny lake, and typical traditional agricultural village. You can rent bicycle at Yogo station, enjoy bike around Yogo Lake. It takes about 1 hour.
If with car, you can drive to Kinomoto, Hokkoku traditional highway. From Yogo, it takes about 30 min to Kurokabe square of glass museum streets. You can feel atmosphere of traditional downtown area.
Visit Yogo or other spots? Anyway, why you can miss this special lunch!
[Woody-pal Yogo]
Address: Nakanogo 260, Yogo town, Nagahama city, Shiga pref, Japan
Business hours:9:00-17:00
Holiday: Tuesday
TEL:0749-86-4145
FAX:0749-86-4545
HP:http://woodypal.jp/

Email:pal@zc.ztv.ne.jp