So so hot summer comes in Japan. Are you eager to something cold?
You know Italian gelato has soft and not oily taste. Here, Kokoku, Lake District Japan has some yammy gelato shops, such like the farm shop.
Now we will introduce three special gelato shops. Each owners are proud of there milk and sweets. In addtion, around there, we can experience beautiful scenery and special products.
In our special edition, the first one is "Gelato shop Koso" produced by Ikeda farm.
Do you know this famous gelato shop in such a far hillside?
Near the famous temple of Eigenji, for colored leaves, we can find "Gelato shop Koso". You might loose your way to there, because of far place, but just this shop is so famous for much of people around Japan.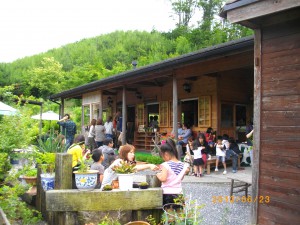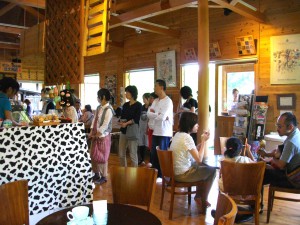 Ikeda farm offer milk to this shop. So you can enjoy fresh gelato made from fresh milk and products. Green tea, sweet potato, Ohmi rice, England tea…. over 20 kind of flavor and special seasonal taste are there. When I visited there, it was sunny. People enjoyed gelato in the garden with breeze.
Of course, I tried two flavor. Chamomile was gentle and soft flavor. Ram raison was alcohol but also soft flavor.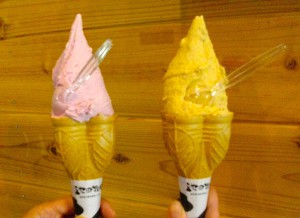 The owner Kikuko Ikeda told me, "the materials for gelato, we try to use Japanese products as we can" "for example, we produce sweet potato, without buying sweet potato from some factory. we can make sure the material is tasty or not" Such like attitude, they can sell their gelato with pride.
Why Kikuko started her gelato shop?
Ikeda farm started in 1956. Present owners, Yoshiaki and Kikuko were junior high-school mates. They were married and handed that farm. 1980s, in Japan, milk became oversupply, they had to eject their milk. Ikuko loves their cows, it was so hard to eject their milk. At that time, the milk farms sold the milk to milk union. She wondered, she could sell customers directly.
Her son, who was in USA, told her that in USA, people like Italian gelato, because of less fat. She went to learn Italian gelato to Italy, when she was 47 years old!! What a powerful woman!!
After she backed to Kokoku, she opened her gelato shop in 1997, beside of cowshed. "Farm gelato of light but milky taste" Much of people visited there. For her, it was the first trial to sell to customers directly. She could learn much of things, the customer enjoyed their fresh gelato, and they have no information about cow. Year by year, more and more visitors came to their shop, she decided to move the shop near the farm.
Take a walk around the shop, of course with tasty gelato!
You know, around the gelato shop Koso, you can enjoy scenery of valley and hillside. If sunny, have a calm and comfortable time at the terrace. And you can take a walk around Koso, because there is Aikyo forest center. By Koso, there is traditional Japanese house "Your country family Koso-An", in which you can enjoy Japanese country meals.
If by car, you can drive to Eigenji-temple, Hot spring Happu-no-Yu, Eigenji Soba noodle, Hitomi winery and so on.
〒527-0213 1572-2 Wanan-cho, Higashiohmi city, Shiga pref
TEL: 0748-27-1111
AM10:00~PM6:00
http://www.ikeboku.com/
Next, Rapdy, which is in Aito Marguerite station in Higashiohmi city. Check it out!